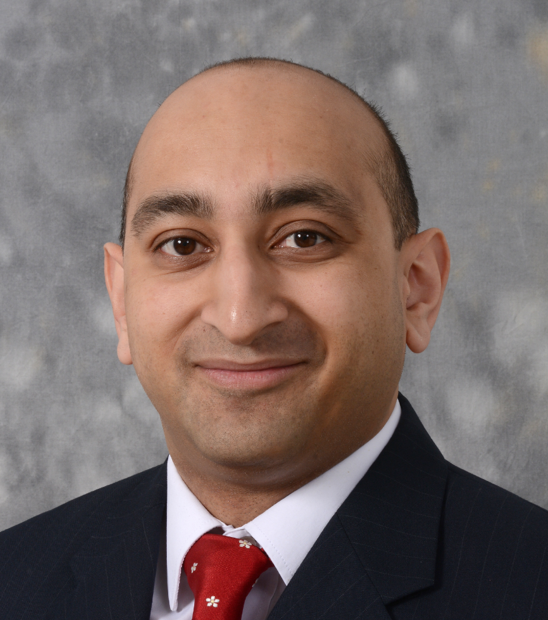 Shyamanga Borooah, MBBS, MRCP (UK), MRCSEd, FRCOphth, PhD
Dr. Borooah completed his medical training at Imperial College London. He then undertook his clinical residency in Ophthalmology in South East Scotland before two clinical fellowships in Medical Retina and Uveitis, the last of which was at Moorfields Eye Hospital, London.
During his ophthalmology residency, Dr. Borooah developed an interest in the study of inherited diseases of the retina and in particular diseases of the retinal pigment epithelium. He was funded by the Wellcome Trust to pursue a Ph.D. during which he generated a novel model of macular degeneration using human induced pluripotent stem cells from patients with a rare inherited form of macular degeneration. He was then awarded a Fulbright Scholarship to continue post-doctoral studies at the University of California, San Diego to try to translate treatments for inherited retinal and macular disease.
In 2019, Dr. Borooah joined the faculty at the University of California, San Diego, ViterbiDepartment of Ophthalmology. The main focus of Dr. Borooah's research is to understand the disease mechanism causing clinical disease and by understanding this to develop novel treatments for disease. His lab uses stem cell and gene therapy/gene editing approaches for inherited retinal disease and macular degenerations.
Dr. Borooah's laboratory work allies well with his clinical work in treating patients with diseases of the retina which include age-related macular degeneration and inherited retinal degeneration. His clinical research uses multimodal imaging and analysis to better understand the natural history of the disease. Additionally, Dr. Borooah is the Principle Investigator and Co-Investigator on a number of clinical trials including gene therapy trials for retinal disease.
His research is currently supported by a career development award from the Foundation Fighting Blindness and he regularly speaks at local and national meetings to better inform the public of progress about the development of treatments to save sight.
Asha Kumari, Ph.D.
Post-doctoral Researcher
Asha obtained her Ph.D. degree in Biotechnology from Banaras Hindu University, Varanasi, India in 2018, before joining Dr. Borooah's lab as a post-doctoral researcher in 2019.
Her research interest includes understanding the immunological aspects of Inherited Retinal Disease (IRDs) using genetic mouse models. Currently, she is investigating the contribution of microglial cells in IRDs using advanced transcriptomics techniques combined with molecular and immunological validations.
Her aim is to identify the missing link between microglial activation and photoreceptors degeneration. Identification of molecular signatures of activated microglia can reveal much more than we know currently about IRDs mechanisms
Besides research work, she loves cooking, bird watching and observing quiet sunsets on beaches.
Leonardo Lando, MD
Visiting ophthalmologist, research fellow
Leonardo is a research fellow from Central Brazil with a special interest in retinal inherited eye diseases and ocular oncology. He obtained his medical degree from the Federal University of Uberlandia, followed by a residency in ophthalmology and a fellowship in vitreoretinal surgery both at the Federal University of Goias, Brazil.
Leo joined our lab at UCSD in 2019, when he was awarded the Tim and Judith Sear scholarship by the Pan-American Association of Ophthalmology. In partnership with teams in the United Kingdom, he has been working on different projects focusing on late-onset retinal degeneration (L-ORD), a genetic eye disease so far poorly understood.
He has looked into the natural history and imaging features of L-ORD, aiming to clarify its clinical manifestations and identify progression markers. He has also participated in our lab collaboration with Dr.Richard Maude from Mahidol-Oxford Tropical Medicine Research Unit, Thailand for studies on malarial retinopathy.
In 2020, Leo will join the ocular oncology fellowship program at Princess Margaret Cancer Centre, University of Toronto. Outside the hospital setting, Leo is a great fan of biking around the Californian coast, hiking national parks, and exploring different cultural backgrounds by traveling and learning languages.
Qais Zawaydeh, MBBcH
Qais has recently earned his medical degree including clinical training and has joined Dr.Borooah's team as a lab assistant. He is aiming to gain experience and develop research skills before applying to residency.
He is striving to practice excellence in both research and clinical fields. Joining Dr. Borooah gave Qais the opportunity to apply his medical knowledge in the research field as knowing more about diseases in a scientific manner is his interest.
Outside the lab, Qais enjoys San Diego's beautiful hiking trails, biking at the beach, he also enjoys playing guitar with a group of other guitarists, spending time with family and friends.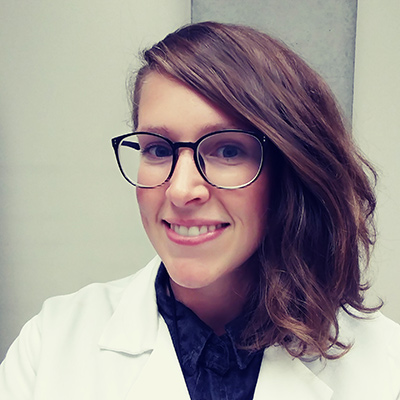 Kristyn Huffman
Kristyn Huffman joins the Borooah Lab in the Shiley Eye Institute with a BS in Molecular Biology and 7 years' experience in ophthalmic research.

Her past work in ophthalmology includes porous silicon drug delivery systems to provide longer-lasting therapeutics for retinal diseases, creating animal models of retinal disease, and testing the safety and efficacy of a subretinal prosthesis. Kristyn's curiosity drives her to understand how things work and she enjoys working closely with ophthalmologists that can guide the research to have a real impact on patients' lives.

Out of the lab, Kristyn enjoys swimming, archery, and exploring nature with her family and dog.
Yoshi Unno
Yoshi is a fourth-year undergraduate student at UCSD with a major in General Biology. He is interested in pursuing a career in medicine, especially fascinated by the field of ophthalmology. He is eager to learn and gain exposure to the clinical and research experience in this field. 

He is currently working with Dr. Borooah to explore new applications of Multicolor imaging in identifying ischemic and non-ischemic BRVO.