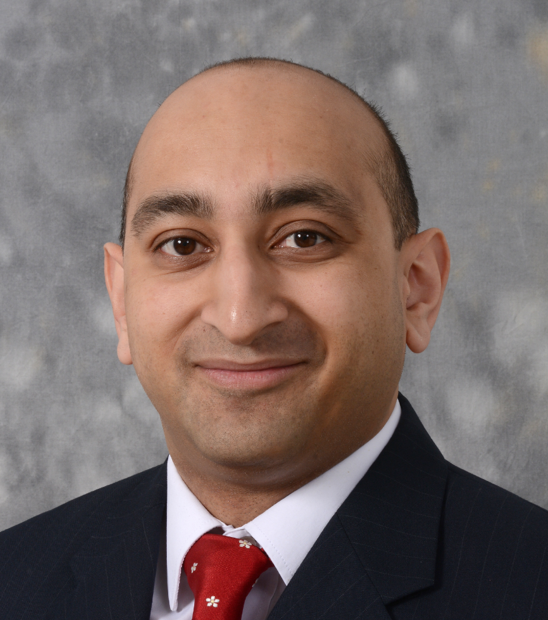 Shyamanga Borooah, MBBS, MRCP (UK), MRCSEd, FRCOphth, PhD
Dr. Borooah completed his medical training at Imperial College London. He then undertook his clinical residency in Ophthalmology in South East Scotland before two clinical fellowships in Medical Retina and Uveitis, the last of which was at Moorfields Eye Hospital, London.
During his ophthalmology residency, Dr. Borooah developed an interest in the study of inherited diseases of the retina and in particular diseases of the retinal pigment epithelium. He was funded by the Wellcome Trust to pursue a Ph.D. during which he generated a novel model of macular degeneration using human induced pluripotent stem cells from patients with a rare inherited form of macular degeneration. He was then awarded a Fulbright Scholarship to continue post-doctoral studies at the University of California, San Diego to try to translate treatments for inherited retinal and macular disease.
In 2019, Dr. Borooah joined the faculty at the University of California, San Diego, ViterbiDepartment of Ophthalmology. The main focus of Dr. Borooah's research is to understand the disease mechanism causing clinical disease and by understanding this to develop novel treatments for disease. His lab uses stem cell and gene therapy/gene editing approaches for inherited retinal disease and macular degenerations.
Dr. Borooah's laboratory work allies well with his clinical work in treating patients with diseases of the retina which include age-related macular degeneration and inherited retinal degeneration. His clinical research uses multimodal imaging and analysis to better understand the natural history of the disease. Additionally, Dr. Borooah is the Principle Investigator and Co-Investigator on a number of clinical trials including gene therapy trials for retinal disease.
His research is currently supported by a career development award from the Foundation Fighting Blindness and he regularly speaks at local and national meetings to better inform the public of progress about the development of treatments to save sight.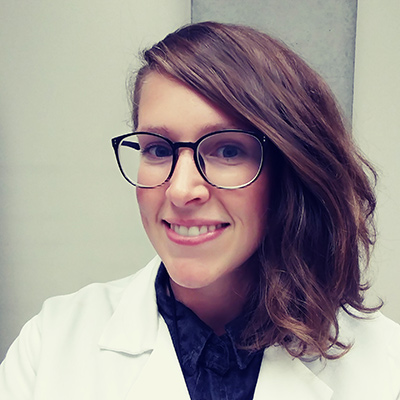 Kristyn Huffman
Kristyn Huffman joins the Borooah Lab in the Shiley Eye Institute with a BS in Molecular Biology and 7 years' experience in ophthalmic research.
Her past work in ophthalmology includes porous silicon drug delivery systems to provide longer-lasting therapeutics for retinal diseases, creating animal models of retinal disease, and testing the safety and efficacy of a subretinal prosthesis. Kristyn's curiosity drives her to understand how things work and she enjoys working closely with ophthalmologists that can guide the research to have a real impact on patients' lives.
Out of the lab, Kristyn enjoys swimming, archery, and exploring nature with her family and dog.
Angie Saluta
Angie joined the team in 2023 with a BS in Pharmacological Chemistry from the University of California San Diego. Her experience stems from her previous projects working with both in-vivo and in-vitro drug metabolism and pharmacology.
She strives to use her skills in biochemistry to contribute to discovering new therapies that will positively impact the lives of many patients in the rare disease community.
In her free time, Angie enjoys sunny San Diego days on the beach with friends and family or staying home to have movie marathons with her dog.
Jennifer Y. Hernández Juárez PhD
Jennifer is a postdoctoral fellow in the Borooah lab at UCSD. She undertook her PhD in Genetics and Molecular Biology at CINVESTAV-Mexico, Mexico City. She is interested in genetic diseases and how they relate to health.
Currently, she is studying hereditary retinal diseases. Her current projects include using patient-derived induced pluripotent stem cell and modified mouse models of human disease. Diseases that she is studying include those with mutations in PRPH2, TIMP3, and C1QTNF5. She is exploring novel therapeutic options for these diseases which currently have no treatment options. Using CRISPR / Cas9 gene editing is the main focus of her work.
In addition to her interest in learning and research, Jenny loves spending time with her family and friends. She likes to practice yoga and swim.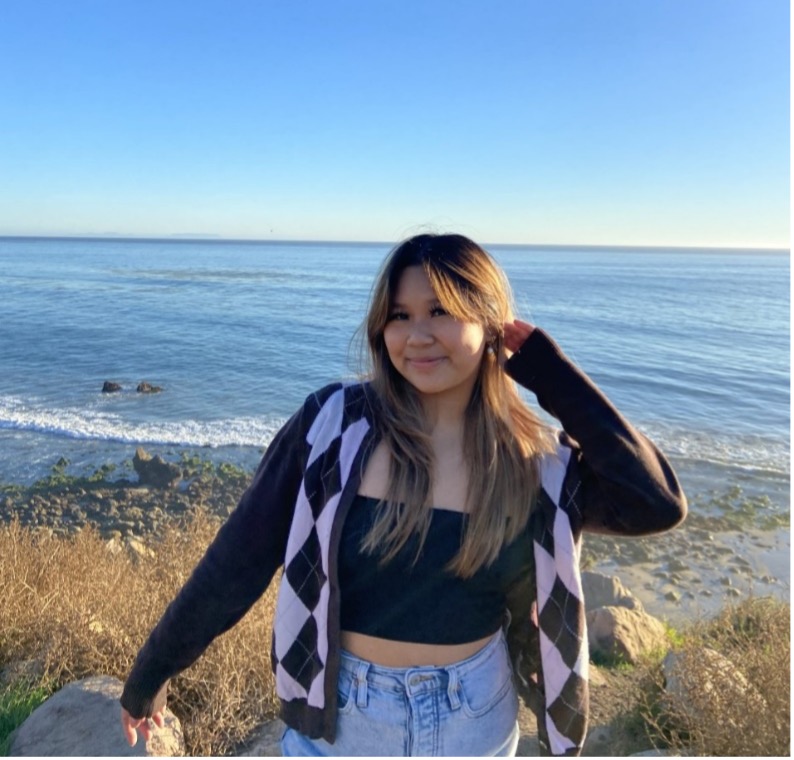 Jenny Luu
Jenny is a second-year undergraduate student at UCSD majoring in Public Health with a Concentration in Medicine Sciences.
She has an interest in optometry and hopes to further her knowledge of eye science by working in Dr. Borooah's lab. She is currently the Borooah lab manager. She also hopes to begin learning the basics of retinal imaging and explore other areas of basic retinal research. Outside of the lab, Jenny works at an optometry clinic that specializes in Vision Therapy and loves spending time with family and friends.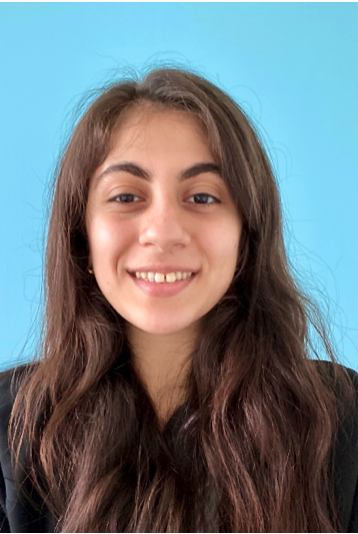 Farah Haleem
Farah is a 4th-year undergraduate student majoring in Human Biology. She has an interest
in gaining a deeper understanding of eye diseases. She is learning new laboratory and computer techniques to design and generate CRISPR-based technologies in the lab. The aim is to develop mutation-specific treatments for inherited eye disease.
As part of her current research in the Borooah Lab, Farah is working with Dr. Borooah to explore possible treatments for Retinitis Pigmentosa using base-editing techniques.
Outside of the lab, Farah enjoys photography, writing, and listening to music.
Fei
Fei is a Fourth-Year undergraduate student at UCSD, double majoring in Cognitive & Behavioral Neuroscience and Communication with a minor in General Biology. She has an interest in neuroscience and veterinary science. In Dr. Borooah's lab, she engages in various molecular studies including genotyping and PCR. She also assists with various studies using the models of disease that Dr Borooah uses to study human disease.
Outside of research, Fei loves spending time with her two cute cats, Rosy and Milky, and volunteering at animal shelters to help with animal intakes (petting all the puppies and kittens!)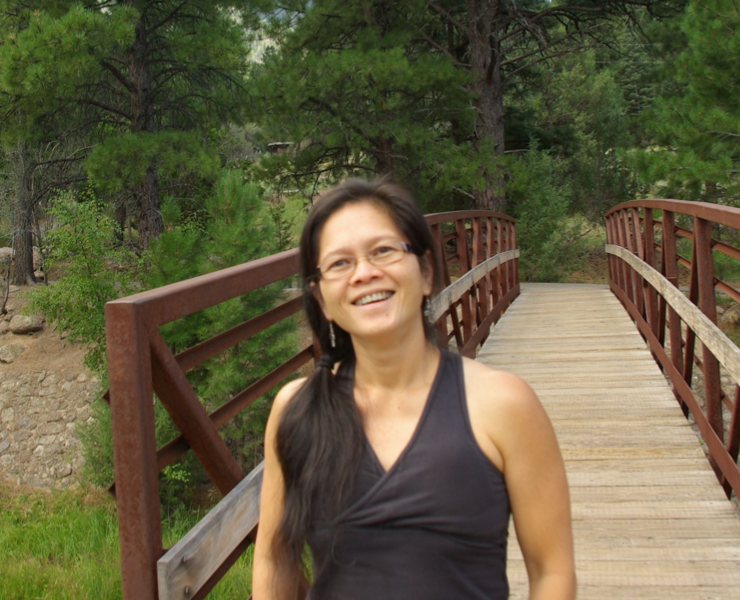 Jacinta Lucero
Jacinta Lucero joined Dr. Borooah Lab in 2022, and before that has spent a great deal of time working in Neuroscience at both The Scripps Research and The Salk Institute. Her scientific experience includes in vivo-culture of primary neuronal/glial cells, and
she has acquired a vast mastery of both molecular and cellular biology techniques.
She aspires to contribute to the lab's collective goal to advance a deeper understanding of various eye diseases, and patient health.
In her spare time, she enjoys running, hiking with friends, strength training, creating new recipes, and gardening.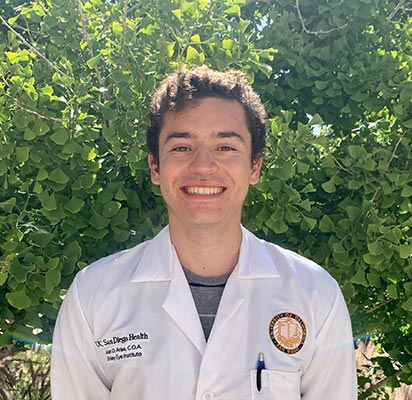 Juan Arias
Juan is a Fourth-Year undergraduate student at UCSD majoring in Human Developmental Sciences with a specialization in Biology. He is actively pursuing a career as a physician with a keen interest in pediatric ophthalmology. He is currently gaining valuable experience in clinical research by working with Dr. Borooah to explore factors associated with Cystoid Macular Edema in cases of Retinitis Pigmentosa. Pain intervention methods involving intravitreal injections are also being investigated. He was recently awarded BUMMP funding for his clinical pain research study.

Outside of research, Juan enjoys hiking, rock climbing, and spending time with family and friends.
Kaitlyn
Kaitlyn is a second-year undergraduate at UCSD majoring in Human Biology. She is interested in learning laboratory techniques and gaining basic research experience as she pursues a career in optometry. Currently, she is spending her time in the lab imaging the retina of mouse eyes with light and electron microscopy.
In her free time, she enjoys reading, baking, and spending time with friends and family.